Welcome


Announcing the Release of Two of My Best Selling Books via Print-On-Demand!!!!!!!!
Since these books went out of print, I have received so many emails from people asking where they could purchase them. The prices for used copies were sky rocketing! Finally I have an answer!!! Whether you are adding these classics to your quilt library or a shop teaching classes from these books, they now can be ordered on line. Just click on the book or the link to order.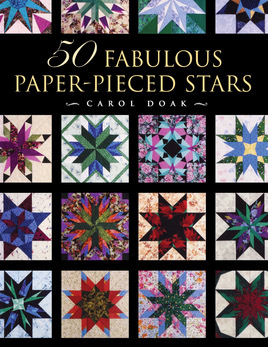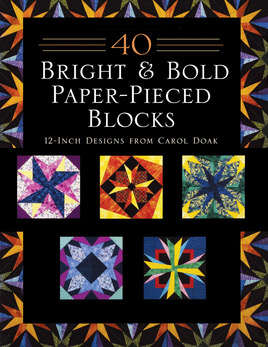 50 FABULOUS PAPER-PIECED STARS PRINT-ON-DEMAND EDITION
By Carol Doak
$29.95
With the simplicity and accuracy of paper piecing, you can create these elaborate-looking Star blocks in a snap! Carol Doak, bestselling author of many books on paper piecing, is back with 50 original paper-pieced Star blocks--one for each U.S. state.
Follow Carol's expert step-by-step instructions to make 50 beautiful blocks that finish to 12"

Find ideas for mixing and matching block sections for fascinating original designs and intriguing secondary patterns

Discover inspiration for using blocks in a variety of projects, plus tips on enlarging and reducing patterns to personalize designs
And Now Block Party is Here to Go Along With Your Book!!!
I wish I had a nickel for each time someone asked me how much fabric they would need to make a 36 block quilt using a particular block. Now there is a program that will be able to give you that answer!!!
Some of you may know that Quilt Pro Systems was purchased by another company several months ago and the changes they are making are exciting. The Foundation Factory programs have been retired and they are launching a new program called Block Party.
I am excited to let you know that they have just launched the 50 Fabulous Paper-Pieced Stars Block Party and the 40 Bright & Bold Paper-Pieced Blocks Block Party.
I have seen the program demonstrated and it is really exciting that you can now see what an entire quilt of a block design will look like and your yardage can be estimated!!!!
Modern, easy to use platform
Yardage Estimator
Basic Quilt Preview
Unlimited Size Variations
Block Rotation Tool
It also allows you to print full size templates for:Strip piecing, Appliqué, English Paper Piecing, Paper Piecing
Block Party is a stand alone program
Imagine printing Carol Doak's foundation blocks any time you want with your home computer: Now you can with Block Party!
*Easy to Use: just click and print!
*Print multiple copies of a foundation block on a single page. No need to trace!
*Easily change the size of any block.
*Preview blocks in a quilt
*Get yardage estimates for your blocks
Just click on each box to be taken to the Quilt Pro web page to purchase and learn more about this exciting program.
If you have any specific questions about this new program, you can direct them to customerservice@quiltpro.com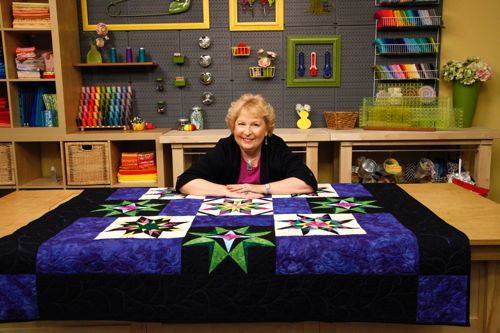 Announcing my second Craftsy Class: Paper-Pieced Stars Has Launched!
I am so pleased and excited to announce that my new Craftsy Class, Paper-Pieced Stars, has just launched. This series of lessons is packed full of all my tips and tricks for paper piecing star blocks. I designed these NEW star blocks for this class. You will learn about paper piecing, organizing your fabric, choosing fabrics, joining blocks perfectly, dealing with the center seams, mixing and matching units, eliminating merging seams, removing a piece easily and so much more. Here is the good news. If you click on the picture above, you will receive a discount off the price of the class. If you have any questions about the class, please feel free to email me at Qcarol@comcast.net http://shrsl.com/1e66m




AYeah!! My Craftsy course went live! With OVER 25,000 students, it appears it is a smashing success!!!! I am thrilled with every aspect of this project. I love the lessons and I love the interaction. If you would like to read more about it, please click on the picture above and receive a discount off the course price!!! This is just one of the 16 Five-Star Reviews..a FANTASTIC class! What's not to love about this: The teacher is just witty and lovely, but nonetheless focused and gets always to the point (little pun intended), the methods and tips taught are genius, the results stunning. I would so give 6 or more stars for this! See you there. http://shrsl.com/1e63v
Helpful information for loading older Foundation Factory CDs on Windows Computers.
Installing Quilt-Pro and other programs with
Windows 7, 8, 10 or Windows Vista

If you are unable to install your Quilt-Pro Systems program on Windows 7 or Windows Vista, the problem is actually with the "auto run" program that starts the installer. Here are two ways to deal with the auto run program so that you can install your software:

Solution #1

When you insert the disk in the drive, the program should attempt to launch an install wizard for the program automatically. In this case, the AutoPlay dialog box will appear. However, instead of choosing to 'run Autorun.exe' or install the program, you should choose to 'Open folder to view files'. Then locate the program's setup file, called Setup or Setup.exe. Right Click on the file and choose Run as Administrator. When it asks you if you want the program to run, choose Allow.

Solution #2

If the AutoPlay dialog box doesn't appear but gives you an error message, click cancel to clear theerror message. Then go to the Start button, click on the Computer icon. Once in the Computer screen, you should see the CD with the program icon. Right-click on the icon and choose 'Explore' or "Open".Then locate the program's setup file, called Setup or Setup.exe. Right Click on the file and choose Run as Administrator. When it asks you if you want the program to run, choose Allow.
Carol Doak qcarol@comcast.net
Carol Doak Quilting Group
At the suggestion of one my students, I started a new group on Yahoo so those who enjoy making paper-pieced quilts from my patterns can share and chat. Our group has now grown to more than 9,500 wonderful quilters from around the world. We are sharing photos of projects, participating in challenges and swaps and lots of sharing and fun are happening. I just started a Block of the Month for the group and the resulting blocks are fantastic!!! Read about us in the current Newsletter. Come and join the fun at
http://groups.yahoo.com/group/CarolDoakQuiltingGroup/

What is New In the Free Patterns Section?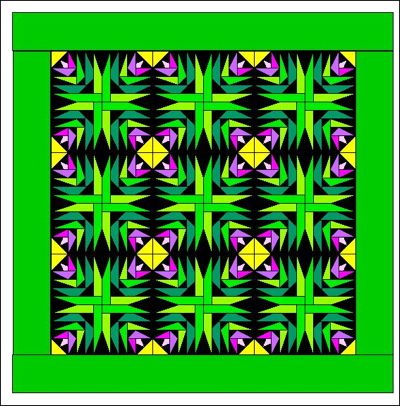 MAY FLOWERS!!!
Just perfect for the SPRNG months. Make a block, make a wall quilt or make a bed quilt.
Enjoy!!!
---
New Quilt Shop and Quilt Teacher Section:
Quilt Shops: The Carol Doak`s Foundation Paper can be ordered from your distributor or directly from C & T Publishing at 1-800-284-1114.
New Free Pattern For Teaching Paper Piecing: I am often asked if patterns from my books can be copied and distributed for the purpose of teaching a class. They cannot as this would violate copyright.However, I have uploaded a block pattern in the Free Patterns section that can be used for teaching others how to paper piece. Permission to reproduce the pattern is given for this purpose and is printed on the pattern.

---